Aqua is a modern, gorgeous, thoroughly responsive WordPress spa and beauty WooCommerce website theme. Aqua is well-designed, malleable, minimalist and modular, best suite for spas, hair salons, barber shops, wellness centres, yoga classes, fitness classes, any and all health care business websites. Pre-designed skins that can be further customized with powerful theme options convert your Aqua website into your business carefully, tastefully branded online foothold within minutes.
Thoroughly responsive across all devices and platforms, Aqua makes sure every client can see your website in its full visual glory. Retina enabled icons and images are crisp and clear regardless of screen size and resolution. On top of this, numerous features allow you to showcase your best services to all potential customers. WooCommerce plugin compatibility allows your customers to get their local currencies converted in real time. Unique homepages with a minimalist, fresh aesthetic will make your website sparkle and outshine the competition. HTML5 and CSS3 animations and visual effects engage your customers and keep them focused on where you want them to focus: your products and content.
Aqua is polished, manages your reservations, works as your online shop, and even features comprehensive video tutorials so you don't miss a beat of what this potent theme is packing for your spa.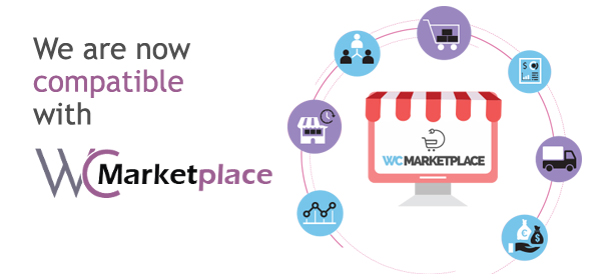 ONE CLICK DEMO IMPORT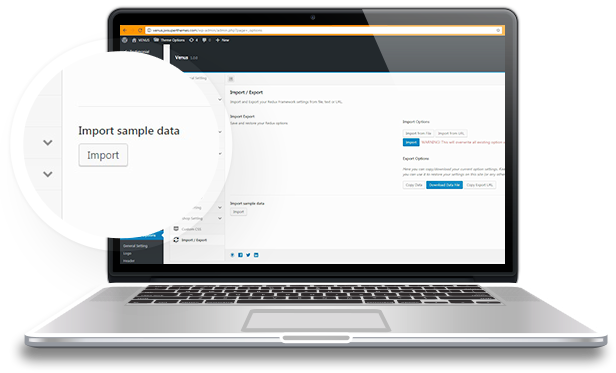 All of the beautiful pre-made , homepages, demos, templates and page setups you can see here in the LIVE PREVIEW, are ready to be yours at the simple click of a button. Purchase your copy today, download the installation package and one-click installer guide you through the rest of the setup.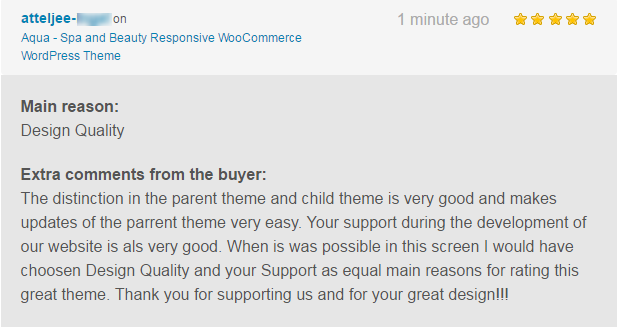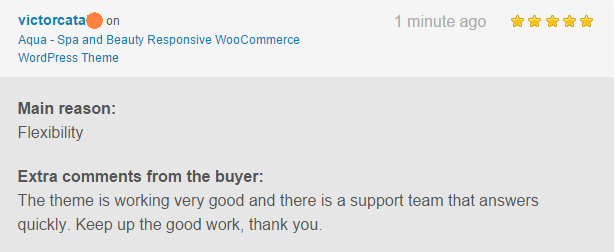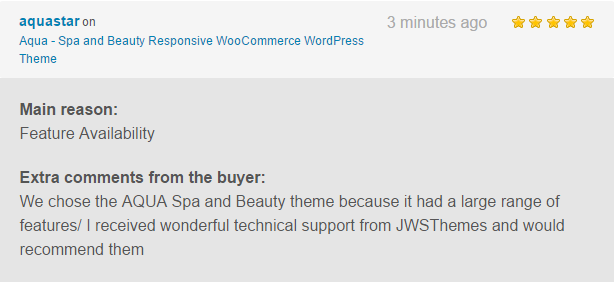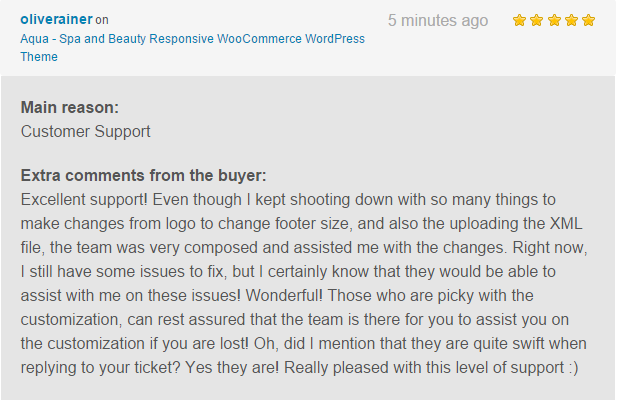 DESCRIPTION
Are you looking for an elegant, powerful, and incredibly versatile Responsive Woocommerce WordPress theme to set up a website. Meet Aqua, a stunning, fully customizable, web solution designed to take your online store, blog, or portfolio to the next level.
DESIGNED TO SELL!
Nowadays, when most business owners turn to the Internet to sell their products and services, having a powerful, yet simple to use online store is absolutely vital if you take your business seriously. This is why Aqua comes with WooCommerce, the most popular eCommerce plugin that makes managing your online store and handling shipping, payments and even taxes easier than ever. We also included WooCommerce Currency Switcher, a WooCommerce plugin that allows you to switch to different currencies and get their rates converted in the real time.
FULLY CUSTOMIZABLE THEME THAT ADAPTS TO YOU
Aqua is the ultimate web tool that allows you to truly express yourself and set up a website that conveys the brand of your business. We also included Visual Composer ? an intuitive plugin that helps you set up any layout you can imagine. And the best part: even absolute beginners will love using it, as it allows you to create even the most complex layouts without having to write a single line of code. Revolution Slider – create a responsive(mobile friendly) or fullwidth slider with must-see-effects and meanwhile keep or build your SEO optimization (all content always readable for search engines). See the heaps of custom transitions/animations for each object on the page! Customize this slider with convenient drag&drop backend to your very needs. This plugin features tons of unique transition effects, an image preloader, video embedding, autoplay that stops on user interaction and lots of easy to set options to create your own effects.
IMPRESSIVE – EVERYWHERE AND EVERY TIME
It's one thing to develop a responsive theme, but it's something else entirely to develop a theme that leaves your visitors breathless, regardless of the device they're using to access the internet. Aqua is a fully responsive theme that seamlessly adapts to any screen size and unleashes the full potential of each pixel thanks to Bootstrap 3 – a powerful framework that guarantees an impressive performance. Even the smallest elements have been tweaked to perfection, turning your website into a crisp, detailed visual experience to behold.
THEME FEATURES
Responsive – This theme is responsive to give a perfect user experience on all devices.
One Click Demo Import – Easiest and fastest way to build your website, one click import pages, post, blog, products, revolution slider, widgets, theme options and more!
Backup & Demo Content – automated backup schedule, import demo content or even create a demo content archive for migration purposes.
Aqua Child Theme – Customize or tweak an existing WordPress theme without losing the ability to upgrade Aqua theme.
WooCommerce Currency Switcher plugin included– This theme includes the WooCommerce Currency Switcher plugin, saving you $23.
Slider Revolution plugin included – This theme includes the Slider Revolution plugin, saving you $19.
Visual Composer plugin included – This theme includes the Visual Composer plugin, saving you $34.
WC Marketplace Compatible.
WC Vendors Compatible.
WC Frontend Manager Compatible.
Boxed or full width layout – This can be set globally or even per page!
Built on Twitter Bootstrap – aqua uses Twitter Bootstrap. This means that a range of shortcodes are automatically supported. For ease of use you can use the Visual Composer, Easy Bootstrap Shortcode or any other plugins to easily add visuals to your website.
WooCommerce plugin included – This is the most popular WordPress eCommerce plugin. And it's available for free. Packed full of features, perfectly integrated into your self-hosted WordPress website.
Restaurant Reservations support – This theme includes styling for the Restaurant Reservations plugin!
Contact Form 7 plugin – this theme includes Contact Form 7 plugin which allows you to manage all your contact forms.
Built with Less .css
Switch to Right to Left.
Shortcode Support.
Demo content included!
Unlimited Color Options.
Moveable & Unlimited Sidebars – Move the sidebar to the left, the right, or hide it entirely for a full width page or post! (global or page/post specific).
Designed with HTML5 and CSS3.
Customizable Design & Code.
All installed Extensions are included.
Cross Browser Support.
Detailed Documentation Included.
Full Support.
+ many more features.
More features coming soon.
NEED SUPPORT?
If you have any questions about customization of this template, which are not covered in the documentation feel free to ask a question Forum or Support Center.
DEAR VALUE CUSTOMERS!
If some of you have trouble with our theme, especially with sample data installation, please, do not rush to give this theme a negative review. Contact our support at Support Center instead!
We are confident in our theme and have spent thousands of hours developing and updating it.
Please, help us improve our theme, our documentation, our customer support! Do not put us down without giving us a chance to prove that this theme is an awesome choice. And please, do not hesitate to give our theme a 5-star review if you like it! Help it live a long life and acquire a lot of new awesome features with future updates!
IMAGES USED IN THE DEMO
All images used in the demo are not included in the theme. They are all licensed under Creative Commons and credited to their respective creator/owner.
CHANGE LOG
V3.1.5 – Sep 15, 2017
# Compatible with WC MarketPlace plugin.
# Compatible with WC Vendor plugin.
# Compatible with WC FrontEnd Manager plugin.
# Fixed small CSS.
V3.1.2 – Aug 22, 2017
# Fixed bug can't edit shortcode.
# Fixed error menu.
V3.1.0 – Aug 02, 2017
# Fixed bug menu touch mobile.
# Fixed error title.
V3.0.5 – Jul 18, 2017
# Optimization One Click Demo Import.
# Compatible with PHP 7.0.x
# Compatible with WooCommerce 3.1.x
# Update Redux Framework 3.6.5
# Fixed small CSS.
V3.0.1 – April 24, 2017
# Compatible with PHP 7.0.x
V3.0.0 – April 14, 2017
# Compatible with WooCommerce 3.0.x
# Updated Redux Framework 3.6.4
# Fixed small CSS.
V2.0.0 – Jan 23, 2017
# Updated 06 Homepage: 02 Yoga Homepage, 02 Fitness Homepage, 02 Spa Homepage.
# Updated Redux Framework.
# Updated file language.
# Fixed small CSS.
# Updated sample.xml file.
# Notice: This version has been updated 6 new homepages and made few changes of CSS. If you have installed and customed CSS in your theme so far, please, skip this version. This version for the first installation and using.
V1.4.5 – Aug 26, 2016
# Updated WordPress Importer 0.6.3.
# Updated WooCommerce Template version.
# Fixed small CSS.
# Fixed break page when add many size product images.
# Updated sample.xml file.
V1.4.0 – Aug 10, 2016
# Update Redux Framework.
# Update WooCommerce Template version.
# Added Smooth Scrolling Feature.
# Fix small CSS.
# Optimization and fix Sticky Menu.
# Optimization SEO tags.
V1.3.8 – Jul 13, 2016
# Updated Redux Framework.
# Fix bug on shortcode blog.
#  Fix small CSS.
#  Improve One click demo data.
V1.3.7 – June 26, 2016
# Updated WooCommerce Template.
V1.3.5 – Mar 26, 2016
# Compatible with WordPress 4.5.
# Updated Visual Composer 4.11.2.1.
V1.3.4 – Mar 23, 2016
# Fixed malware.
# Small fixes.
V1.3.3 – Mar 16, 2016
# Upgrade Compatible WooCommerce 2.5.x.
# Small fixes.
V1.3.2 – Mar 08, 2016
# Updated : fixed error missing custom widget after updating theme.
V1.3.1 – Mar 03, 2016
# Upgrade Compatible WooCommerce 2.5.x.
# Fixed shipping in review order.
# Fixed price ajax load in review order.
V1.3 – Jan 15, 2016
# Fixed Ajax load image on product.
# Fixed choose color in Theme Option.
# Fixed line height submenu.
# Fixed show menu level 3.
# Changed Screenshot image.
V1.2.2 – Jan 06, 2016
# Updated Booking function.
V1.2.1 – Nov 11, 2015
# Improved One Click Demo Import.
# Updated Aqua Child Theme
# Small fixes
V1.2.0 – Oct 06, 2015
# Checked Compatible with: Visual Composer 4.7.4 
# Added Aqua Child Theme
# Small fixes
V1.2.0 – Sep 30, 2015
# Updated WooCommerce template files
# Updated plugins package
# small bugs Responsive
# Add 2 Homepages Version
# Add Single Product Page
# Add Cart Page
# Add Checkout Page
V1.0.0 – July 20, 2015
# Updated import function in Option Theme.
V1.0.0 – July 18, 2015
# Released
THEME REVIEW – FAQ
Check out the review of the Spa and Beauty Responsive WooCommerce WordPress Theme.
How many languages does the Spa and Beauty Responsive WooCommerce WordPress Theme support?The current theme version is in English, but we are going to include additional languages in future theme updates. Nevertheless, the theme can be easily translated; it includes the needed PO files which can be translated to any other language using plugins like LocoTranslate.
Can I build a website that uses your Spa and Beauty Responsive WooCommerce WordPress Theme and works with several languages?You can easily add a multilingual feature to your website using a plugin like WPML. This is the best solution for multilingual websites, so we made sure that the Spa and Beauty Responsive WooCommerce WordPress Theme is 100% compatible with WPML.
Can I use the purchased theme on several websites?Due to the single license policy, a purchased theme can be used on a single website. You will need to purchase the Spa and Beauty Responsive WooCommerce WordPress Theme again if you want to use it on another website.
What is the best php version to use with Aqua WordPress Theme?This theme requires PHP version of at least 5.3.x, but we recommend version 5.4.x or even better 7.x. Please contact your hosting company and ask them to update the PHP version for your site.
Are the colors customizable on every field?You can easily customize the colors, making the theme fit your project and business' color scheme. A custom CSS field is also included, allowing you to alter any specific element, and thus make it match your specific preferences.
Do you provide free install service of your Spa and Beauty Responsive WooCommerce WordPress Theme?Yes, we provide a free service install demo data for you. After buy theme, you can open the ticket to our support center or open the topic to our community forums. We will check and import demo data.
Do you provide customizations of your Spa and Beauty Responsive WooCommerce WordPress Theme?We do not provide theme customizations. However, we offer support for our products, so we will fix any bugs, errors, etc. You can always hire a programmer if you want to customize the theme for your needs, of course.
I have submitted a ticket on Saturday night. It's Monday now, and I haven't received a reply yet. How long should I wait?Our business hours are always posted at our tech support forum, so please make sure to check them. We really care about customer support services and guarantee to response to all support topics within 24 hours on weekday (a bit longer over weekend).